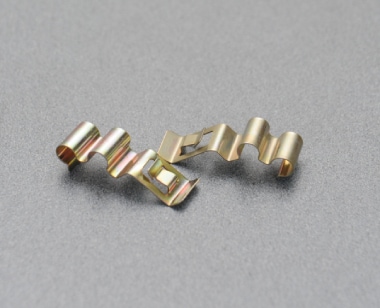 As part of our comprehensive range of stamping capabilities at Baker Stamping  we operate precision multi-slide presses, which offer an outstanding combination of process flexibility and production economy. We manufactured the double-relief tube clip shown here for a client in the automotive industry. Designed for use in a fluid tubing application, it featured annealed spring steel construction with a zinc plated finish.
A big advantage of our multi-slide machine was its ability to execute all of the forming operations from start to finish. Our tooling specialists put together a combination of sliding tools that were used to strike a metal blank from multiple directions. The ability to manipulate the workpiece from multiple axes allowed us to transform a flat piece of metal to a geometrically complex part with multiple curves, angles, notches, and flat sections. Our powerful presses operate at a very fast cycle times, which allowed production to progress at a rapid pace. Additional operations involved heat treating to achieve the desired mechanical properties followed by plating to add a corrosion resistant finish.
When completed, the clip featured overall dimensions of 23.5 mm in length x 16.8 mm in height. Dimensional inspections validated that we met the ±0.25 mm tolerance requirement. Additional quality assurance processes consisted of material inspections to validate the long-term integrity of the final product.
Multi-slide stamping, with its very low tooling investment, minimal setup and handling, and high material yield rates made this part very economical to produce. The client was very impressed with the results. We continue to produce this part at the rate of 500,000 units per year, and actively work on other projects for them as well.
If you are interested in learning more about this project or our multi-slide stamping capabilities, contact us today.
DOUBLE RELIEF TUBE CLIP HIGHLIGHTS
Project/Product Description
Double Relief Tube Clip
Capabilities Applied/Processes
Primary:Secondary:
Equipment Used to Manufacture Part
Baird #35 Multi-Slide
Overall Part Dimensions
Length: 23.5 mm
Thickness: 16.8 mm
Tightest Tolerances
±0.25 mm
Material Used
Annealed Spring Steel
Material Finish
Zinc Plating
In process testing/inspection performed

Material Processing Inspection
Optical comparator

Industry for Use
Automotive Electrical Tubing
Volume
500,000 Annually
Delivery/Turnaround Time
6-8 Weeks
Standards Met
Customer Specification, 2D Drawing, including 35 data points to be checked, with 9 being absolutely critical to the part acceptance on every batch.