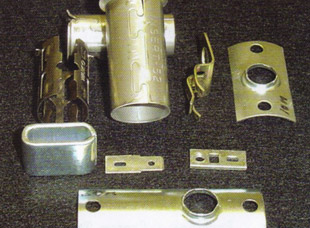 Since our founding in 1899, Baker Stamping  has developed a core strength for producing high quality stamped components, including clips and brackets and a wide variety of bushings, spacers, connectors, and more. With presses rated from 35 to 120 tons, we produce precision formed and stamped parts using numerous production methods, including progressive die, transfer die, continuous strip, and others. Specializing in small-to-medium sized tubular parts with outer diameters in the .171″ to 2.25″ range and lengths up to 6″, our skilled operators and tooling specialists allow us to hold very close tolerances.
We work with many types of material, from non-ferrous metals to steels in a variety of grades and tempers. Capable of creating complex geometrical features, we offer our stamped products as a cost-effective alternative to expensive cut-off tubing as well as powdered metal, screw machined, and molded plastic parts. We also offer numerous finish options, including plating, painting, and powder coating. All you need to do is specify the I.D. or O.D., length, wall thickness, type of metal, finish, and special features, and we do the rest.
Our robust, ISO 9001 certified quality management system is fully integrated into every aspect of our everyday production operations. It outlines measurable performance objectives that ensure we meet the highest standards of excellence. Our satisfied and loyal customer base hails from the garage door, lawn and garden, automotive, office furniture, golf and turf vehicles, truck suspension systems, HVAC, lighting, marine, and numerous other industries. We are large enough to accommodate production runs in the millions, yet small enough to respond quickly to all of your special needs.
For more information about our metal stamping capabilities, refer to the table below. Contact us at any time for a quote.
Metal Stamping Highlights
General Capability
Custom Manufacture
We Produce to Customer Specification
Production Method

Tubular
Multislide®
Continuous
Continuous Strip
Forming

Progressive Die
High Speed
Punch Press
Transfer Die

Stamping Features

Chamfered
V Shaped Seamed (closed or open)
Punched
Notched

Oval
Cutout
Serrated

Press Rating
35 to 120 tons
Materials

Low Carbon Steel
High Carbon Steel
Stainless Steel
Aluminum
Brass

Copper
Edge Conditioned
Galvanized
Aluminized

Finish

Cadmium
Zinc
Phosphate (Black)
Nickel

Brass
Paint
Powder Coat

Part Length
.250 in to 6 in
Part Inside Diameter (ID)
.109 in to up to 1.5 in
Part Outside Diameter (OD)
.171 in to 2.25 in
Stock Thickness
.021 in to .187 in
Strip Width
Up to 6 in
Feed Length
Up to 13 in
Tolerance (+/-)
Length ± .010 to ± .015 in
I.D. ± .005 to ± .010 in
O.D. ± .010 to ± .015 in
Stamping Product

Oval Tubular Contacts
Dowel Pins
Sleeves
Bushings
Inserts
Split Seam Spacers
Split Seam Bushings
Spring Pins
Wire & Tubing Connectors
PVC Water Pipe Stiffeners

Miniature Motor Housings
Injection Molded Inserts
Clips
Brackets
Mechanical Supports
Electrical Contacts
Power Switch Components
Electrical Terminals
Wire Straps
Fastener Components

Quality Control

Continuous Improvement
Statistical Process Control
Certification

Documentation
Traceability

Secondary Services

Heat Treating
Centerless Grinding
Assembly
Consulting

Deburring
Plating
Packaging
Stress Relieving

Production Volume
Prototype to Production
Typical Lead Time
6 weeks
On Time Delivery
Additional Information
Industry Focus

Appliance
Automotive
Air Conditioning
Construction
Conveyor
Door
Electrical
Farm Equipment

HVAC
Lawn & Garden
Lighting
Marine
Material Handling
Recreation
Toy

Intended Applications

Clips
Brackets
Mechanical Supports
Oval Tubular Products
Electrical Contacts
Interlocking Seam Tubular Products
Electrical Contacts
Power Switch Components
Electrical Terminals
Custom Designed Clips and Wire Straps
Fastener Components
PVC Water Pipe Stiffeners
Miniature Motor Housing
Custom Injection Molded Inserts

Conveying Equipment
Electric Motors
Electrical Controls
Garage and Truck Doors
Golf & Turf Vehicles
Jacks and Winches
Metal Raschig Rings
Office Furniture
Spring Bushings and Dowels
Spring Pins
Truck Suspension Systems
Tubing Connectors
Vibration Isolators
Wire Connectors

Industry Standards
ISO 9001
File Formats
TurboCAD
PDF