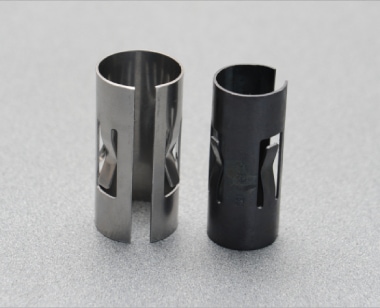 At Baker Stamping, we specialize in providing our customers with flexible manufacturing services that allow to act as a single source solution for their product needs. In this example, we worked with a global manufacturer to create two tubular damper bolts. Both bolts are 63.5mm in length and have outside diameters of 25.9mm and 31.17mm. The wall thickness for both is 1.0mm. The 25.9mm diameter part has 3 25mm x 6.1mm "clips' on its diameter while the 31.17mm diameter has 4 clips of the same size. Additionally, all of these features and dimensions had to be produced to tolerances of +/- 0.5mm.
To efficiently achieve all of the job requirements, we chose to utilize our Bared #35 Multi-Slide press. This advanced system is engineered for speed and repeatable precision, which is a critical factor in maintaining low waste and fast turnover of orders. It also allows us to offer our customers some of the most competitive prices in the industry. Our expertise in complex stamping is backed up by a robust quality program: in this case it includes comprehensive dimensional inspections throughout the manufacturing process. Once all forming and quality checks are completed, both parts are austempered. In the end, the customer was very pleased with the results. Our ability to surpass their expectations for quality and turnover has made them a long-time customer. Baker produces annually 25,000 pieces of the 31.17mm diameter part and 60,000 pieces of the 25.9mm part.
For more information about this project, see the table below to contact us directly.
TUBULAR DAMPER BOLT HIGHLIGHTS
Project/Product Description
Tubular Damper Bolt
Capabilities Applied/Processes
Multi-Slide Stamping
Equipment Used to Manufacture Part
Bared #35 Multi-Slide
Overall Part Dimensions
Length: 63.5mm
OD: 25.9mm and 31.17mm
Wall Thickness: 1.0mm
3 – 25mm x 6.1 clips (25.9mm part)
4 – 25mm x 6.1mm clips (31.17mm part)
Tightest Tolerances
+/-0.5mm
Material and Finish
C1074/C1075 Annealed Spring Steel
Austempered

In process testing/inspection performed
Material Processing Inspection
Industry for Use
Construction
Delivery/Turnaround Time
8 weeks
Standards Met
Customer Specification, 2D Drawing