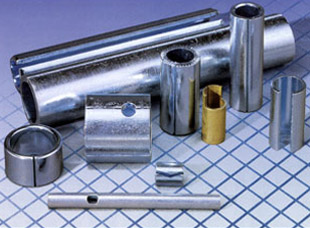 As pioneers in the field, Baker Stamping's tubular stamping capabilities are one of the true focal points of our manufacturing strength. We form highly complex, tubular shapes and parts and can implement special features such as open or closed O.D chamfers, chamfered seams, serrated ends, holes, slots, cut-outs and more. Highly automated, we have the proficiency to execute our manufacturing processes with an exceptional degree of accuracy and repeatability.
Our tubular stamping process produces parts with high strength-to-weight ratios and we offer it as cost-effective alternative to cut-to-length tubing or screw machined parts. Examples of the types of parts we produce include split seam spacers, dowel pins, slotted spring pins, bushings, and inserts. Materials of construction include all types of ferrous and non-ferrous metals, including high performance alloys and hardened tool steels. Working with strip materials measuring up to 6.5″ in width x .021″ to .187″ in thickness, we produce parts with O.D.s in the .171″ to 2.25″ range and from .250″ to 6.5″ in length. We also offer numerous finishing options including plating, painting, and powder coating.
With a rich heritage in the manufacturing industry that dates back to 1899, our success is built upon a foundation of superior quality and service. Our ISO 9001 registered total quality program includes statistical process controls, numerous certifications, and traceability. We are large enough to manage production runs in the millions, yet small enough to offer personalized and responsive customer service.
To learn more about our tubular stamping capabilities, please refer to the table below. If you are interested in learning if our part is a good fit for this cost-saving process, contact us today.
ADDITIONAL INFORMATION

Types of Seams 


Typical Applications
TUBULAR STAMPING SERVICE HIGHLIGHTS
General Capability
Custom Manufacture
We Produce to Customer Specification
Production Method

Tubular
Multislide®
Continuous
Continuous Strip
Forming

Progressive Die
High Speed
Punch Press
Transfer Die

Seams

Open
Closed

Interlocking
Straight

Temper
Soft
Spring
Stamping Features

Chamfered
V Shaped Seamed (closed or open)
Punched
Notched

Oval
Cutout

Special Features

O.D. Chamfered – Closed or Open
I.D. Chamfered Seam

Ends Serrated
Holes, Slots, and End Cut-Outs

Press Rating
35 to 120 tons
Materials

Low Carbon Steel
High Carbon Steel
Stainless Steel
Aluminum
Brass

Copper
Edge Conditioned
Galvanized
Aluminized

Finish

Cadmium
Zinc
Phosphate (Black)
Nickel

Brass
Paint
Powder Coat

Part Length
.250 in to 6.5 in
Part Inside Diameter (ID)
.109 in to up to 1.5 in
Part Outside Diameter (OD)
.171 in to 2.25 in
Stock Thickness
.021 in to .187 in
Strip Width
Up to 6.5 in
Feed Length
Up to 13 in
Tolerance (+/-)
Length ± .010 to ± .015 in
I.D. ± .005 to ± .010 in
O.D. ± .010 to ± .015 in
Stamping Product

Oval Tubular Contacts
Dowel Pins
Sleeves
Bushings
Inserts
Split Seam Spacers
Split Seam Bushings
Spring Pins
Wire & Tubing Connectors
PVC Water Pipe Stiffeners

Miniature Motor Housings
Injection Molded Inserts
Clips
Brackets
Mechanical Supports
Electrical Contacts
Power Switch Components
Electrical Terminals
Wire Straps
Fastener Components

Quality Control

Continuous Improvement
Statistical Process Control
Certification

Documentation
Traceability

Secondary Services

Heat Treating
Centerless Grinding
Assembly
Consulting

Deburring
Plating
Packaging
Stress Relieving

Production Volume
Prototype to Production
Typical Lead Time
6 weeks
On Time Delivery
Additional Information
Industry Focus

Appliance
Automotive
Air Conditioning
Construction
Conveyor
Door
Electrical
Farm Equipment
HVAC

Lawn & Garden
Lighting Hardware
Marine
Recreation
Toy
Material Handling
Sleeves
Bushings
Custom Tubular Components

Intended Applications

Clips
Brackets
Mechanical Supports
Oval Tubular Products
Electrical Contacts
Interlocking Seam Tubular Products
Electrical Contacts
Power Switch Components
Electrical Terminals
Custom Designed Clips and Wire Straps
Fastener Components
PVC Water Pipe Stiffeners
Miniature Motor Housing
Custom Injection Molded Inserts

Conveying Equipment
Electric Motors
Electrical Controls
Garage and Truck Doors
Golf & Turf Vehicles
Jacks and Winches
Metal Raschig Rings
Office Furniture
Spring Bushings and Dowels
Spring Pins
Truck Suspension Systems
Tubing Connectors
Vibration Isolators
Wire Connectors

Industry Standards
ISO 9001
File Formats
TurboCAD
PDF