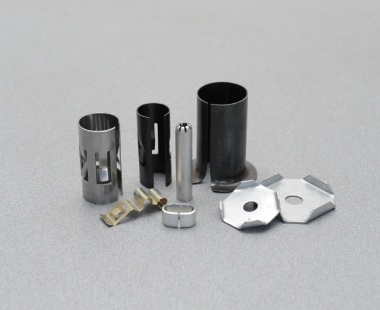 At Baker Stamping we have mastered the art of multi-slide stamping for the production of small, intricate parts with complex shapes and bends. This specialized process gives us the ability to achieve rapid production speeds, a very high level of accuracy, and outstanding repeatability. Our technicians and tooling specialists select a combination of tools and dies to create three-dimensional parts from thin strips of steel, aluminum, brass, copper, and more. It is an ideal process for manufacturing items such as clips, brackets, mechanical supports, electrical contacts, power switch components and many, many, more and has application in almost every industry.
Multi-slide stamping can save significantly on production costs. Dies and tooling are inexpensive, which minimizes startup costs, and raw material can be purchased to finished width to optimize yield and reduce scrap rates. Our facility houses presses rated from 28 to 35 tons that operate at speeds from 40 to 160 SPM. We can process material from 1/64″ to 3/32″ in thickness in widths up to 3″ and lengths up to 13″. Multi-slide stamped parts often benefit from a finish process; we offer plating, painting, and powder coating to accommodate those requirements.
In business since 1899, we recognize the importance of producing reliable quality products. Our quality management system is ISO 9001 certified, and we use robust methods, including advanced statistical process controls, to ensure product integrity. We have the capacity to manage projects of any size as well as an outstanding record for on-time delivery.
To learn more about our multi-slide stamping capabilities, please see the table below. Contact us at any time to learn more.
Multi-Slide Stamping Service Highlights
General Capability
Custom Manufacture
We Produce to Customer Specification
Production Method

Multislide®
Piercing
Coining
Continuous

Continuous Strip
Forming
Progressive Die

Stamping Features

Chamfered
Fluting
Punched
Notched

Oval
Cutout
Serrated

Material Handling Products
Clips
Brackets
Mechanical Supports
Automotive Products
Oval Tubular Products
Electrical Contacts
Interlocking seam tubular products to replace seamless parts at a cost reduction
We can offer interlocking seams as well as straight seams on most tubular products.
Appliances / Lighting Hardware

Electrical Contacts
Power Switch Components
Electrical Terminals

Custom Designed Clips, Wire Straps
Fastener Components for Recessed Lighting Fixtures

Sleeves / Bushings / Custom Tubular Components
PVC Water Pipe Stiffeners
Miniature Motor Housings
Custom Injection Molded Inserts
We can fabricate tubular items up to 4 inches OD, max wall thickness of .093 inches, max length of three inches.
Press Rating
28 to 35 tons
Materials

Low Carbon Steel
High Carbon Steel
Stainless Steel
Aluminum
Brass

Copper
Edge Conditioned
Galvanized
Aluminized

Finish

Cadmium
Zinc
Phosphate (Black)
Nickel

Brass
Paint
Powder Coat

Specifications

Minimum stock thickness 1/64"
Maximum stock thickness 3/32"
Maximum strip width 3"

Maximum feed length 13"
Speed range 40 - 160 SPM
Ram tonnage 30 - 40

Quality Control

Continuous Improvement
Statistical Process Control
Certification

Documentation
Traceability

Secondary Services

Heat Treating
Centerless Grinding
Assembly
Consulting

Deburring
Plating
Packaging
Stress Relieving

Production Volume
Prototype to Production
Typical Lead Time
12-16 Weeks Prototype
8 Weeks Standard
On Time Delivery
Additional Information
Industry Focus

Appliance
Automotive
Air Conditioning
Construction
Conveyor
Door
Electrical
Farm Equipment
HVAC

Lawn & Garden
Lighting Hardware
Marine
Recreation
Toy
Material Handling
Sleeves
Bushings
Custom Tubular Components

Intended Applications

Clips
Brackets
Mechanical Supports
Oval Tubular Products
Electrical Contacts
Interlocking Seam Tubular Products
Electrical Contacts
Power Switch Components
Electrical Terminals
Custom Designed Clips and Wire Straps
Fastener Components
PVC Water Pipe Stiffeners
Miniature Motor Housing
Custom Injection Molded Inserts

Conveying Equipment
Electric Motors
Electrical Controls
Garage and Truck Doors
Golf & Turf Vehicles
Jacks and Winches
Metal Raschig Rings
Office Furniture
Spring Bushings and Dowels
Spring Pins
Truck Suspension Systems
Tubing Connectors
Vibration Isolators
Wire Connectors

Industry Standards
ISO 9001
File Formats
TurboCAD
PDF